Validation Structure
---
SCIAMACHY Validation Structure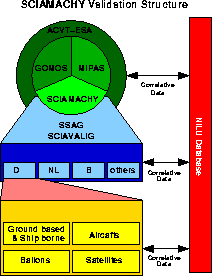 The German Contribution to the Validation of SCIAMACHY is part of the international structure of the validation of the atmospheric chemistry instruments on Envisat.

This contribution will be complemented by the validation measurements planned in the framework of the Dutch and Belgian validation activities as well as those planned by ESA and co-ordinated within the ENVISAT Atmospheric Chemistry Validation Team (ACVT). The Atmospheric Chemistry Validation Team has been created to address the validation of MIPAS, GOMOS and SCIAMACHY. The ACVT consists of four subgroups:

This team will meet regularly to discuss the status of the validation and other related issues, like data distribution.

The requirements for the validation of SCIAMACHY have been developed by the SCIAMACHY Validation and Interpretation sub-Group (SCIAVALIG) of the SCIAMACHY Science Advisory Group (SSAG). One of the tasks of the SCIAMACHY Science Advisory Group is to give advice and assistance concerning the validation of SCIAMACHY. These activities are co-ordinated by the SCIAMACHY Validation and Interpretation Group. SCIAVALIG consists of an international scientific consortium of representatives of the institutes participating in the validation.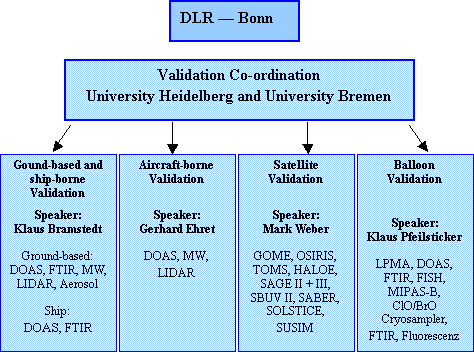 The German validation team established working groups for an optimised coordination of the activities. Four working groups were established reflecting the different expertise needed for validation and available within the German research community:
Validation by ground based and ship borne Measurements,
Speaker: Klaus Bramstedt, Univ. Bremen;
Validation by Measurements from Aircraft Platforms,
Speaker: Gerhard Ehret, DLR
Validation by Balloon Borne Measurements,
Speaker Klaus Pfeilsticker, Univ. Heidelberg
Validation by independent Satellites Measurements,
Speaker: M. Weber, Univ. Bremen.
The overall coordination is done by the national coordinators Klaus Bramstedt (Univ. Bremen) and Berit Kirchhoff (Univ. Heidelberg).
---

Klaus Bramstedt / Last Change.