About VolImpact
An ability to reliably predict and anticipate future changes to the climate system depends on the adequacy of our understanding of the processes involved in climate change. Explosive volcanic eruptions are unique natural experiments that provide unprecedented insight into many of these key processes. Understanding how the climate system responds to volcanic forcing not only tests our understanding of processes determining climate change, it also facilitates the interpretation of past climate records, and thus motivates long-standing interest in volcanic effects on the climate system.
The overarching goal of VolImpact is to improve our understanding of how the climate system responds to volcanic eruptions. It achieves this objective by building on and exploiting important recent advances in models and measurements.
For more information, the official website of the project can be visited in
www.uni-greifswald.de/volimpact.
Scientific projects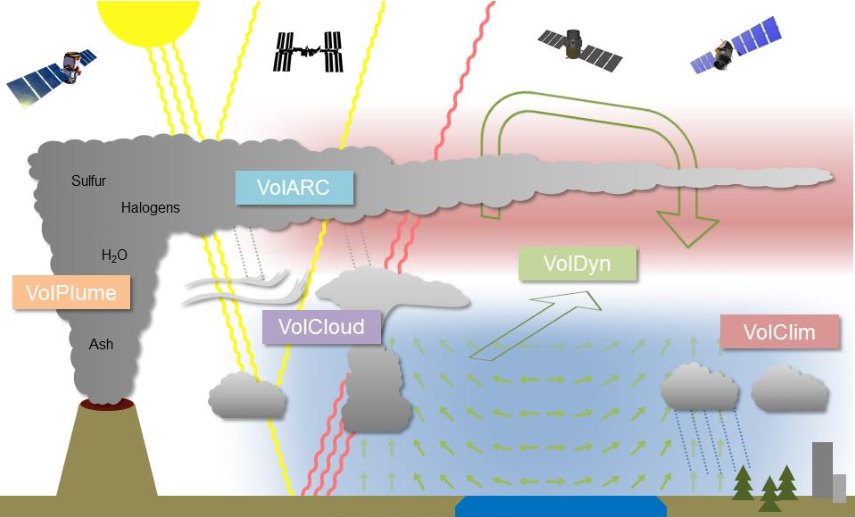 The ambitious research program of the VolImpact research unit is beyond the capabilities of a single research group, because it requires expertise in a variety of complementary disciplines; including aerosol microphysical modelling, cloud physics, climate modelling, global observations of trace species, clouds and stratospheric aerosols.
Therefore, VolImpact is formed by 5 different scientific projects: VolPlume, VolARC, VolCloud, VolDyn, VolClim. They study from volcanic plume evolution to its impact on surface climate: