Balloonborne Level 2 Cal/Val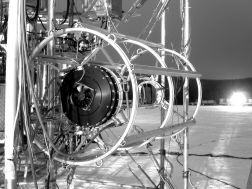 ENVISAT satellite level-2 validation by measurement of atmospheric trace gas profiles using the balloonborne CHILD (Compact High-altitude In-situ Laser Diode) spectrometer
The aim of the project is the validation of SCIAMACHY H2O and CH4 profiles by an independent technique. Validation measurements of H2O and CH4 are made in-situ from ground to more than 30 km altitude by the lightweight CHILD-TDL spectrometer flying piggyback with the TRIPLE balloon payload. Additional applications of CHILD are atmospheric chemistry and climate studies.
Validation of SCIAMACHY water vapor and methane profiles by balloon-borne in-situ measurements with the "CHILD" spectrometer onboard TRIPLE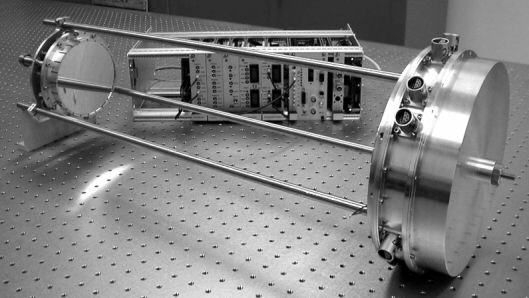 1. Concept and Instrument
The aim of the project is the validation of SCIAMACHY H2O and CH4 profiles by an independent technique. The lightweight near-infrared tunable diode laser spectrometer CHILD (Compact High-altitude In-situ Laser Diode spectrometer) was flown as an additional sensor on the TRIPLE gondola during several Envisat Validation Campaigns from Aire sour ´l Adour (France, fall 2002) and Kiruna (Sweden, spring and summer 2003) to measure stratospheric CH4 and H2O profiles using in-situ TDL spectroscopy. In all cases, flight parameters were optimized to match ENVISAT overpasses during descent of the payload. Spectra were recorded from ground to float level (approx. 32.000 m). The design of the instrument developed in cooperation with the university of Heidelberg incorporates a number of new features.
The results show reliable and contamination-free operation of the spectrometer. CHILD uses near-infrared tunable diode laser absorption spectroscopy (NIR-TDLAS), a proven and widely accepted method for trace gas measurements. Wavelengths used are 1393 nm for water vapour and 1648 nm for methane. The absorption features recorded by CHILD are the same that also can be used for the level-2 processing of SCIAMACHY data. Thus, uncertainty of spectroscopic line parameters can be completely removed from the validation results. After recording of the absorption features, calculation of the trace gas concentrations is straightforward using Beer´s law.
The laser beams are coupled into a multipass absorption cell (Herriott design) that offers 74 meters free-air absorption path for methane and 36 meters for water, respectively. The cell is open to the atmosphere in order to avoid contamination that can be produced by adsorption or condensation in closed inlet systems. All signals are recorded onboard during flight, and at the same time a subset is transmitted to the ground control station for inflight inspection and preprocessing. Thus, trace gas profiles can be monitored in realtime during the flight.
Technical characteristics of CHILD
| | | |
| --- | --- | --- |
| GENERAL | | |
| Total mass | approx. 25 kg | |
| Dimension | 25 dia x 80 length (optics) | |
| | 50 x 15 x 32 cm (electronics) | |
| Power Consumption | 40 Watts | |
| SPECTROSCOPIC | CH4 | H2O |
| Wavelength used | 1648.2 nm | 1392.53 nm |
| Absorption Path Length | 74.0 m | 35.9 m |
| Scan Range | 17 GHz | 15 GHz |
| Minimum detectable Absorption (MDA) in practical Operation | approx. 4 x 10E-5 (limited by noise in absorption signal) | 4 x 10E-4 (limited by possible local contaminations from balloon envelope) |
| Time Resolution | 1 sec. (tropopause) 50 sec. (stratospheric float) | 1 sec. (tropopause) 50 sec. (stratospheric float) |
2. Flight Results
The results of some recent CHILD flights with TRIPLE on 24 September 2002 (France) and 06 March 2003 (Sweden) are shown below. On both flights, launch was scheduled for early morning to match satellite overpasses at 10:30 and 10:04 UT, respectively. Measurements were taken during all phases of the flight from launch, ascent and float to descent. Especially for the water vapor, best (contamination free) in-situ measurements can be expected on descent, after outgassing of the large balloon envelope during stratospheric float. Therefore, the descent phase of the flights was timed for the closest possible satellite match around 30 hPa pressure level. During float, which took approximately 15 minutes, stratospheric balloons with control valve like the one used here tend to oscillate vertically before the altitude is stable. During these oscillations, water vapour from the balloon´s own boundary layer can contaminate the in-situ measurements. These effects were seen in our data (and also in the data of other in-situ instrumentation onboard TRIPLE) as isolated spikes.
Both plots below show profiles of methane (doubled), water vapor and potential hydrogen, which is calculated from (2 CH4 + H2O).