SCIAMACHY Measurement Modes
SCIAMACHY measures in three viewing geometries: Nadir, Limb, and Occultation.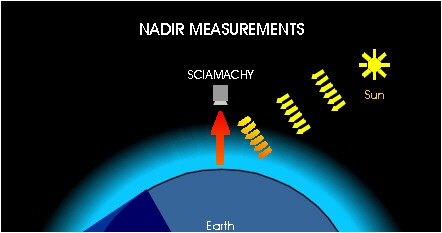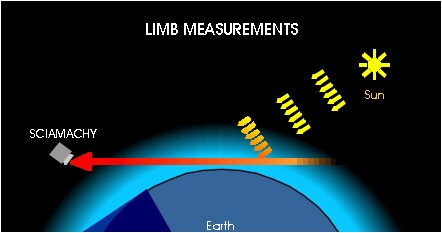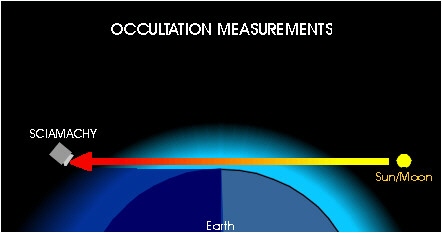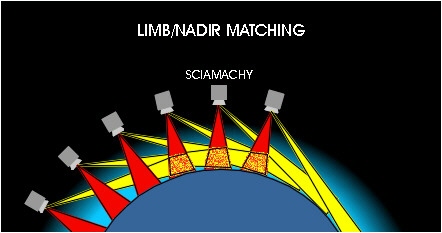 Global Coverage
With its orbital period of about 100 minutes, SCIAMACHY is able to observe the whole Earth. Global coverage at the equator is achieved within 6 days when using the standard alternating Limb/Nadir scan option. Using only Nadir or Limb modes global coverage is achieved within 3 days (for 960 km swath width).
Because of the "dynamics scan mode" global coverage goes in line with a rather "local" spatial resolution for PMD measurements and special wavelength ranges. Therefore, the vertical profiles of temperature and several long-lived trace constituents are measured at high spatial resolution.
Details on the SCIAMACHY instrument operations concept can be found at the SOST Website.
| | | | | |
| --- | --- | --- | --- | --- |
| | | Geometrical FOV | Coverage | Typ. Spatial Resolution |
| Nadir | along track | 25 km | continuous | 30 km |
| | across track | 0.6 km | +/- 480 km | 60 km |
| Limb | azimuth | 110 km* | +/-460 km* | 250 km* |
| | elevation | 2.5 km* | 0 - 200 km* | 3 km* |
| Solar Occultation | azimuth | 40 km* | N.A. | 30 km* |
| | elevation | 2.5 km* | 0 - 200 km* | 2,5 km* |
| | | * at tangent point | | |