Workshop Announcement

Tropospheric OXidation CApacity (TOXCA)
workshop 2013 in Bremen

The Tropospheric OXidation CApacity (TOXCA) thematic workshop takes place within the 2nd phase of the DFG (Deutsche Forschungsgemeinschaft) SPP-HALO program and is coordinated by the Institute of Environmental Physics of the University of Bremen and supported by the SPP coordination project. TOXCA will be held in Bremen from the 16th to the 18th January 2013

TOXCA promises to become an interesting forum to put together and to discuss new lines of research within the HALO-SPP. Reporting gradually from ground based to airborne experiments will be used to revise the state of art in the study of the oxidation capacity of the troposphere and to identify key scientific issues which can benefit from further measurements on the HALO platform.


!!! Last-minute announcement!!!
You do not have to print out both agenda and abstracts as we'll have
paper copies available at the registration desk on Wednesday.
Click here [400 KB] for the complete agenda.

Click here [1.236 KB] for all abstracts.

1) Oxidative capacity: from ground based to airborne measurements
Keynote speaker: Horst Fischer (MPI, Germany)

2) Airborne measurements: state of art and key open issues
Keynote speaker: Agnes Borbon (CNRS, France)
Keynote speaker: Bruno Neininger (MetAir AG, Switzerland)

3) Why are airborne measurements still crucially required?
Keynote speaker: Hans Schlager (DLR, Germany)

4) Linking modelling with measurements
Keynote speaker: Mathew Evans (University of York, UK)
Keynote speaker: Andrea Pozzer (MPI, Germany)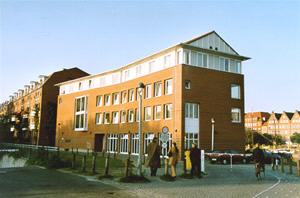 Gästehaus Teerhof der Universität Bremen, Auf dem Teerhof 58, 28199 Bremen.

Click here [492 KB] for information about the accommodation and travel to and from the conference.


Travel expense reimbursement

Please send this form [296 KB] , including your travel and hotel expenses and your bank account information, to

Goethe Universität Frankfurt
Institut für Atmosphäre und Umwelt
Sekretariat
Altenhöferallee 1

60438 Frankfurt


Phone +49 (0)421 218 62110

lola (at) iup.physik.uni-bremen.de

markus.horstjann (at) iup.physik.uni-bremen.de

During the conference please contact Petra Horn (IUP office) at +49 (0)421 218 62101

We look forward to seeing you in Bremen!

Lola Andrés-Hernández, Markus Horstjann and John P. Burrows

Recommendations from the workshop concerning tropospheric oxidation capacity airborne measurements can be found here. [111 KB]